ExtSTAR 10.1
ExtSTAR release 10.1 includes several significant new capabilities that have been introduced since version 9.6, including web-based quoting, scheduling and time tracking for value-added processes and packing, real-time visual monitoring of all processes from extrusion through packing, non-conforming product alerts, cost analysis reporting, automatic updates, e-mailing of shipping documents and the ability to generate die purchase orders and track die rework history.
Quoting
A web-based quoting module is now bundled with the Automatic Pricing optional component. It supports the creation of quotes for new prospects or existing customers, new profiles or new parts from existing profiles, multiple profiles per quote and multiple parts per profile. It also includes the ability to define workflows for routing quotes through all parties whose input is needed, a dashboard that lets each user see the quotes that are waiting on their action, optional e-mail alerts for a user when a quote appears in their dashboard, any number of attachments to quoted profiles or parts and the ability to e-mail sub-quote requests to vendors who provide fabrication or finishing services not done in-house. And once a quote has been accepted, the quoting module can automatically generate profiles, dies, parts and price rules in the production system directly from the quote.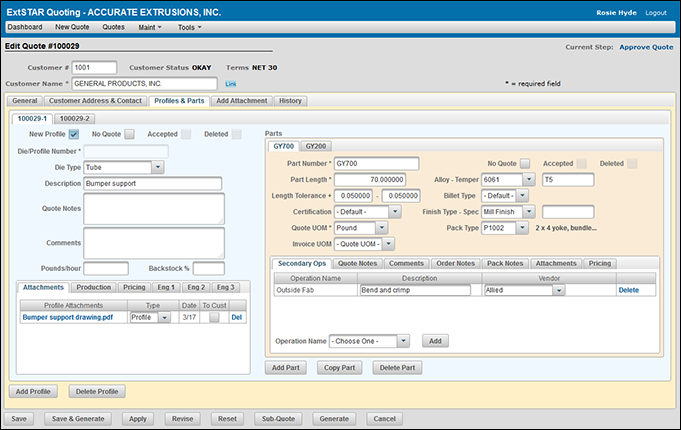 Value-Added Process and Packing Scheduling and Productivity Tracking
Value-added processes such as cutting, punching, CNC maching and deburring, along with packing, can now be scheduled using ExtSTAR's new Fab/Pack Scheduling tool. Production and downtime for those processes is also now recorded by ShopStation™, which are used to generate pieces/hour statistics for each part and process that then assist in accurately scheduling upcoming jobs.
Non-conforming Product Alerts
When production personnel encounter a quality issue that needs to be resolved before processing can continue, they can now create an Alert that details the problem, alerts anyone viewing the Fab/Pack Scheduling form or Plant Pulse screen that there is a problem, and prevents any further processing of the affected material until someone with the authority to do so enters a disposition for. The disposition can clear the alert if the problem can be ignored or has been remedied, warn operators who do further work on the affect material to check for the problem or perform additional testing or measurements, or order that all affected material be scrapped.
Real-time Plant Monitoring with the Plant Pulse™
With activity in the plant being recorded in real-time and great detail by ShopStation, including which shop order and process each press and fab/packing crew is working on, when they are recording downtime vs production time and when a quality issue has arisen, it is possible to pull all of this information together and present it in real-time to supervisors, quality managers and anyone else who has an interest in productivity and addressing issues when they arise rather than after the fact. The tool that does this is called the Plant Pulse, which provides a real-time picture of all the production processes going on in the plant. It can be accessed by any ExtSTAR Desktop user at any time, and shows the press or fab/pack process, crew, machine/workstation, shop order #, customer, die/profile #, part number, start time, expected finish time, a graph of expected current progress and downtime information for each job being recorded in the plant by ShopStation. It refreshes automatically in intervals from 1-10 minutes according to the user's preference, and includes hot-links to shop orders, profiles and parts. For processes that involve processing individual parts, a graph showing the number of pieces reported as processed is also shown, which can be compared to the expected progress in terms of time to ascertain whether the job is ahead of or behind schedule. Jobs that are down, past their expected finish time or affected by an active alert are highlighted accordingly.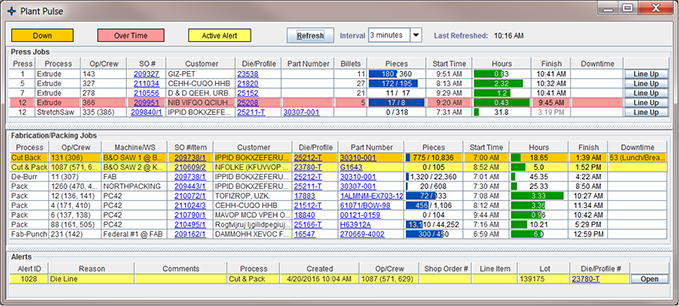 E-mail Shipping Documents
Shipping documents can now be automatically e-mailed to customer and vendor contacts by ExtSTAR Server. This is useful for customers who require an advanced shipping notice (ASN) as well as to reduce the amount of paper being generated and handled.
Die Purchase Orders
Purchase orders can be created for new dies or for rework or coating of existing dies. A history of the work performed on any die can also be recalled at any time. Die purchase orders can be created directly from an accepted quote if you have the Quoting and Automatic Pricing module, and open orders are tracked until the new/reworked die has been received.
Cost Analysis Reporting
If you have the Quoting and Automatic Pricing module, invoices and historical base metal prices can be used to generate a cost analysis showing contribution and profit for a profile, customer, and/or press, for any historical period of time.

Automatic Updates
ExtSTAR now includes an update utility that automatically alerts users when an update is available and prompts them to install it. Installation and updates can be done at the discretion of end users, or, if more security is desired, they can be done at boot time by a group policy object workstation startup script.